Sliding Door Safety Concerns
Even though they provide breathtaking panoramas, sliding glass doors are notoriously simple to break into, which poses a significant threat to the safety and security of a home. Your nearest locksmith will agree with this assessment.
1. Latches rather than locks
Sliding glass doors have latches rather than locks. Even amateur robbers can easily circumvent most factory-installed latches. They could also remove the door from its track and out of the way, which usually does not involve using tools.
Of course, a regular old brick is a burglar's prefered sliding door break-in tool. With one hard throw, they're inside your house. So, how can you keep robbers from breaking into your home through sliding doors?
2. Tracks for doors
If you routinely open and close your patio door, you will find that it easily slides off its tracks. Criminals are aware of this and can occasionally push the door off its track without having to break through a latch.
3. With Glass, You Can See Everything!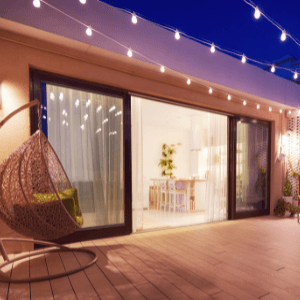 Despite their aesthetic appeal, the glass panels of sliding doors are a known security risk. Sometimes, people can even peer into your home through the glass.
The security hazards linked with sliding glass are evident. Anyone intent on smashing the windows can do so with relative ease due to the enormous expanse of the glass panes.
Unattached and improperly fastened sliding glass doors are easily removable. That is why tempered glass is the material of choice to make most sliding glass doors because it does not break easily.
Burglars could easily break through, especially if they had something big to throw or strike. However, when struck, tempered glass shatters into tiny, harmless shards.
Tips for Securing Your Sliding Glass Door
The same sliding glass doors that let in natural light also allow potential burglars and robbers in if they aren't properly locked. Read on if you want to know how to lock your patio doors without sacrificing aesthetics!
1. Fix the Lock Position
Most sliding glass door locks include an easy adjustment screw on the inside of the door for sliding glass door locks. The steps to take are as follows:
Open the latch by turning the screw counterclockwise with a tiny screwdriver.
The screw should adjust the latch's height, making it higher or lower.
You should try several locking configurations to find the one that works best for you.
Check the door to find which locking positions work best. You may also need to adjust or reposition the strike plate.
This is how you or the nearest locksmith can disassemble the lock fully using these screws and take it to a hardware store for inspection.
If your lock didn't pass the inspection, you might want to have the nearest locksmith look at it or examine the door mechanism yourself. 
2. Replace or Upgrade Your Lock
The security of your home cannot be relied upon with spring-loaded locks. Put in reliable, heavy-duty security locks made explicitly for sliding doors and windows in place of your current locks.
We pointed out two types you should use for sliding glass doors below. Disengaging these locks is an arduous task, making them more secure.
3. Add a Security Bar
Installing a security bar on your patio door is a tried and true method of keeping unwanted visitors out. The telescoping bar can be stored flush against the door frame when not in use. As a result, it does not open fully in the horizontal position.
The door is wedged between the bar and the opposite wall, making it necessary to break the glass to gain entry.
4. Install an Alarm and a Glass Break Detector
If you already have a sliding glass door alarm system, you might consider installing a glass break detector on the door itself. If properly implemented, this simple and affordable solution will sound an audible alert when the glass in the sliding door breaks.
D.I.Y. alarm kits are widely available and inexpensive now. The F.B.I. reports that burglars are 2.7 times more likely to target homes without alarm systems, even though an alarm system may not make the door any more secure.
There are many things on the market right now, and if you want to buy them, you have to pay for a subscription or go through a lot of work to get them ready. An alarm system is made better by adding a motion-activated light installed near the sliding glass door.
It is now common for home security systems to be compatible with a homeowner's smartphone, providing instantaneous alerts and messages in the event of an emergency.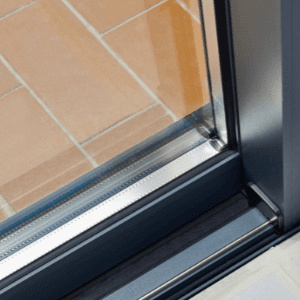 5. Clean or Replace the Track
Set aside time at least once a season to clean the track. When the door's track becomes clogged with debris like stones and leaves, it's much simpler to force it out of its track. If your sliding glass door's track is warped or worn, a professional can help you replace it.
6. Close the curtains or apply a one-way film
Their lack of privacy is a significant drawback to sliding glass doors. For instance, if you have a lot of high-tech gadgets in your house, burglars will likely target them.
Raising the level of privacy in your home can help prevent break-ins. Blackout curtains are perfect for this purpose. These drapes are substantial and will obstruct the view through your glass door.
Furthermore, they will improve insulation and lower noise levels. But if you need some light, just pull them back, and if you want some privacy, push them out of the way.
You don't have to settle for blackout drapes if you don't like them.
Get a film that only lets light in from the outside and install it on the door. That way, you can enjoy the spectacular view without worrying about others peering into your home and seeing nothing except their reflection in the glass door.
7. Reinforce Your Glass
Most modern sliding doors use double-pane glass that's strong and loud if you break it. Most thieves won't risk going that way since they know residents and neighbors would hear them.
But those who might be bold enough can use reinforced glass or place a film on the glass that makes it unbreakable.
You can opt for tougher glass for the glass in your sliding doors, but this is a pricey upgrade. There's also the possibility of installing a new entry with reinforced glass. In the same vein, that choice is also somewhat costly.
Another possibility involves securing the glass with a film that prevents it from splintering in the event of a break. What would have been a simple break-in through a broken window can take several minutes longer if this happens.
If they keep striking the door with a crowbar, the police might show up before they finally break it down.
Two Highly-Recommend Locks for Sliding Glass Doors
Knowing which lock will work best on your sliding door is essential for your home's safety and security. The nearest locksmith will recommend the following as the best types of locks for sliding glass doors:
1. Two-Bolt Sliding Door Locks
Each side of the door features a lock secured by a double cylinder and operated by a separate key. Glass within 40 inches of the lock is a good candidate for installation.
Always keep a key in or near the lock when you are home, as double-cylinder deadbolts make it more difficult to get out of a burning building.
Regulations dictate that only existing single-family homes, townhomes, and first-floor duplexes may have double-cylinder deadbolt locks installed. For information on applicable laws, call a locksmith in your area.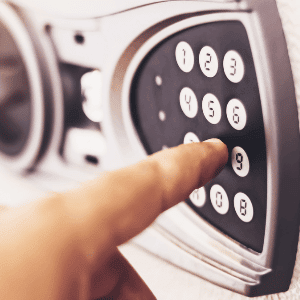 2. Smart Locks for Sliding Glass Doors
It is now common for home security systems to be compatible with a homeowner's smartphone, providing instantaneous alerts and messages in the event of an emergency.
You can use your fingerprint, a PIN, a smartphone, a card, or even a key to unlock a smart lock. It's long-lasting, safe, and simple to operate. For businesses and workplaces, a smart lock is an ideal choice.
Note: It works wonderfully with sliding glass doors as well as hinged doors. Ask the nearest locksmith for a recommendation.
Bottom Line
With the addition of a few well-chosen security elements, your patio or sliding glass door can serve as an extra layer of security around your home's perimeter while still letting natural light and fresh air inside.
It's ideal for taking a multi-pronged approach to protect the entrance while still taking advantage of its light and views: upgrading to thicker glass, purchasing a more secure lock, and keeping an eye on your surroundings. 
Solve any issues you may have by calling on your nearest locksmith!
About Star Spangled Locksmithing
Need the nearest locksmith in Johnson City, Tennessee? Give Star Spangled Locksmithing a call. Whether you've lost your keys at home, in the office, or at any other location, we can help you get a replacement key.
Whether you need help with the locks and keys on your car, business, or home, Star Spangled Locksmithing can help. Need emergency help? Call us immediately. We respond quickly!