Is there a difference between residential and commercial locksmith services? Afterall it is common for people to use the word "locksmith" to describe anyone who works with locks.
As an industry, 'locksmith' seems to be understood as a job title and a general description for someone working with locks.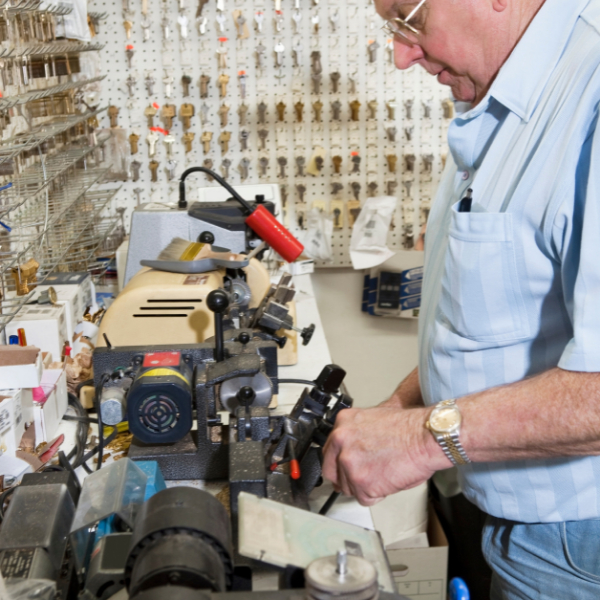 Residential Locksmith Services
The type of business that locksmiths choose influences their specialization within locksmithing.
Residential work is usually straightforward lock-out situations or upgrading deadbolts or doors to meet building codes. It is necessary to employ locksmiths in these situations, along with standard door hardware.
This type of work is relatively one-dimensional, meaning that it doesn't involve opening safes or high-security items.
Commercial Locksmith Services
Businesses have more cash on hand than homeowners do. Thus, large safes to keep the money safe are also a part of many commercial locksmith services jobs. This requires expertise with code machines for opening these types of safes. Some safes can be pretty intricate with keypads and multiple combinations needed before the doors will open.
The two main subcategories of commercial locksmith services are retail stores and offices/business complexes.
There are further specialization distinctions within these subcategories, but they share some similarities - both need master keys and an understanding of alarm systems.
Professional Locksmiths
All locksmiths do the same essential work: they help people with their locks and security needs.
It seems that many locksmith professionals also label themselves as such by using the job title in their business name.
A generalist may opt to describe themselves as a "locksmith services" provider rather than a residential or commercial locksmith. That is because they provide all types of service.
The average person probably envisions someone unlocking gates and opening doors when they hear "locksmith services". So this is not necessarily wrong - the focus is just not residential and commercial jobs, which we defined above.
Updating and replacing locks, are necessary at some point, which means there will always be a demand for locksmith services.
Any locksmith who practices their trade long enough will have had some experience with all of these distinct subcategories. Still, it's helpful to know what the locksmith may be most experienced in. That will help you to determine if they can meet your needs.
The Best Locksmith in Tennessee
With Star Spangled Locksmithing, you can rest easy knowing that we have the experience working with all types of locks and security systems. We provide services for both residential and commercial customers.
Our company name says it all: we are a full-service locksmith in the state of Tennessee. Contact us today. Find out how we can help you stay safe from unwanted intruders and keep your family, property, and business protected.
We offer a 24/7 emergency service that's available 365 days a year. That's enough to give you peace of mind knowing that someone is always available if you ever need them!
If you're looking to upgrade your deadbolts, change out problematic door hardware or improve your home's overall security, give us a call!